Claremont School of Theology President Kuan Announces He Will Step Down after 10 Years of Service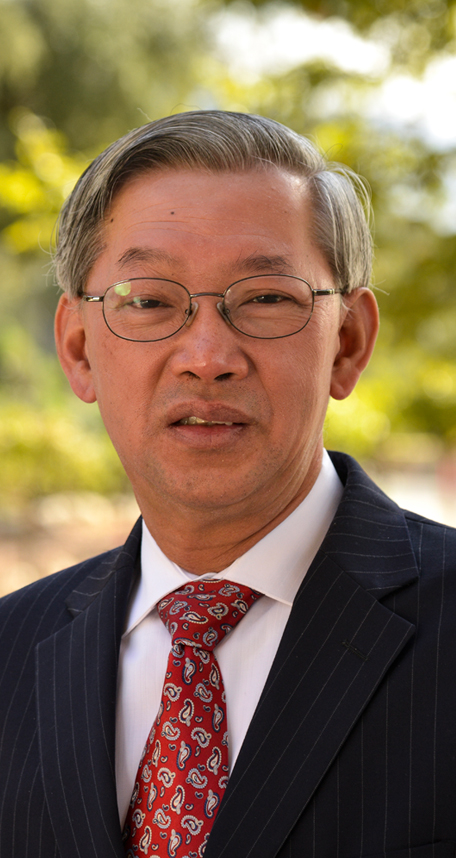 Claremont School of Theology President Kuan Announces He Will Step Down after 10 Years of Service – Bishop Hagiya named President ad interim
CLAREMONT, Calif. Thursday, September 15, 2022 /CST/ – Claremont School of Theology (CST) President Dr. Kah-Jin Jeffrey Kuan announced in an open letter yesterday that he will begin a sabbatical leave beginning January 2023, then step down as the school's President on June 30, 2023.  Kuan's announcement ends a 10-year tenure during which the school significantly grew its international student membership and became a leader in global and interreligious programs.  Kuan will continue to serve the school as Professor of Hebrew Bible & Asian-American Hermeneutics following his sabbatical.
Kah-Jin Jeffrey Kuan began his tenure at CST on July 1, 2013 as the school's 7th president. Kuan is a five-time delegate to the General and Jurisdictional Conferences of the UMC, in 2004, 2012, 2016, 2019, and 2020.  Kuan served as a director of the General Board of Higher Education and Ministry from 2004 to 2012, and as the Vice President of the board and chair of the Division of Higher Education from 2008 to 2012. He currently serves on the University Senate of The United Methodist Church and chairs the Commission on Theological Education. He is also currently the President of the Association of United Methodist Theological Schools.
"A leader needs to know when the time has come to step down and let others take the lead. After months of prayerful discernment, I have come to the conclusion that the time has come for me to step down from the presidency at CST at the conclusion of my 10th year of service. I am confident that the Board of Trustees will find the right person to continue to lead the school forward," Dr. Kuan announced.
In his open letter, Dr. Kuan wrote, "Answering the 'Macedonian/Claremont Call' to come to CST back in 2013, I continue to believe that my coming to CST was not by happenstance, but out of a deep sense of calling. In these last 10 years, we have worked diligently to focus on our mission to prepare our graduates 'to become agents of transformation and healing in churches, local communities, schools, non-profit institutions, and the world at large.' In order to do that, we have fervently remained student-centric in spite of all the challenges we have had to navigate."
"President Kuan has led CST for ten years with boundless energy, creativity, resilience, and perseverance," said Rev. Patricia Farris, President of the CST Board of Trustees.  "His commitment to the mission of the school, and to our faculty, staff, students, alums, and donors, is unwavering.  While we have faced adversity and challenge, we have also experienced significant areas of growth and a clearer vision of all that lies ahead.  Dr. Kuan is one who embraces the challenge and, out of deep faith, envisions a new future ripe with expansive potential and promise," Farris said.
Kuan wrote that "to facilitate the school's transition to a new leader, I have asked the Board of Trustees for a six-month sabbatical leave effective January 1, 2023.  I hope to take some time for personal renewal and then to reengage in some research projects. Upon my return from this long-delayed sabbatical leave, I intend to remain on the faculty and resume more teaching," he said.
Among Kuan's many accomplishments while president of CST:
Expansion of CST's global programs.
Set high standards using multiple modalities, especially hybrid/online programs.
Positioned the school to attract talented new faculty.
Significant increase in LGBTQIA+ students.
38% of our students are now international and 68% identify as Black, Indigenous, or People of Color (BIPOC).
He served on the Commission on Accrediting of the Association of Theological Schools from 2015–2020.
Currently serves on the Board of Directors of In Trust Center for Theological Schools, National Association of Independent Colleges and Universities, The United Board for Christian Higher Education in Asia, International Association of Methodist-related Schools, Colleges and Universities, and North American Association of Methodist Schools, Colleges and Universities.
Dr. Kuan previously served on the faculties of the Pacific School of Religion and the Graduate Theological Union in Berkeley, California from 1991 to 2010. He also served as Old Testament Editor for the multi-volume New Interpreter's Dictionary of the Bible from 2006 to 2009. He was a member of the Council of the Society of Biblical Literature from 2007 to 2012.
As a biblical scholar, Dr. Kuan has long been a visible advocate for LGBTQIA+ equality in churches and society. Beginning in the early 1990s, he has been teaching against the misuse of biblical texts towards lesbian and gay Christians. He served as an expert witness both in the investigation of the Sacramento 68, a group of United Methodist clergy, who co-officiated the holy union of a lesbian couple, and in the church trial of a lesbian clergy in Seattle. He has marched and spoken out publicly in rallies and press conferences, as an Asian Pacific Islander clergy in support of LGBT equality and marriage.
The CST Trustees accepted Dr. Kuan's sabbatical request and also announced that Bishop Grant Hagiya, a United Methodist Bishop, will be stepping in as President ad interim beginning January 1, 2023. Hagiya is the Resident Bishop of the Los Angeles Area, which includes the California-Pacific Conference, and the Interim Bishop for the Phoenix Area, which includes the Desert Southwest Conference of the UMC.  Bishop Hagiya announced his episcopal retirement July 2022, which is effective December 31, 2022.
Bishop Hagiya is a graduate of CST, where he received his M.A., M.Div., and D.Min. degrees.  He graduated with an Educational Doctorate in Organizational Leadership at Pepperdine University in 2012.  Abingdon has published a book based on this research entitled Leadership Kaizen: How to Become a Better Church Leader.  He has served as a full-time Professor at CST, teaching in the areas of Religion and Society and Urban Ministries.  He has remained as an Adjunct Professor at Claremont for the last 25 years, and currently teaches Religious Leadership and United Methodist studies classes.
###
Claremont School of Theology is one of 13 United Methodist seminaries, located in Claremont, California.