"A beloved child of God," the Rev. Chelsea Simon encourages others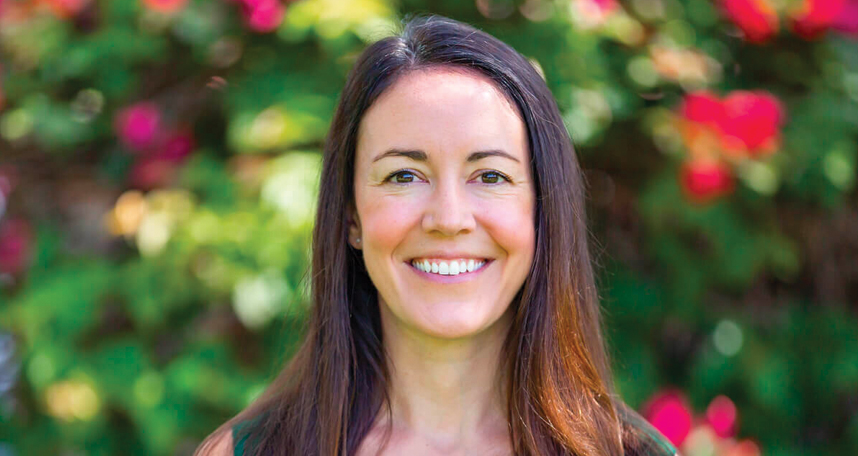 The greatest gift we can give others, the Rev. Chelsea Simon asserts, is our undivided attention. "It is honoring and holy," she said, "to be with someone, to hear their story and to be present with them."
Chelsea proves that point again and again as associate pastor of San Dieguito United Methodist Church in Encinitas, California. Her focus is community outreach.
Starting a small group for young adults in the LGBTQIA+ community proved especially eye-opening for Chelsea. She saw the harm the church has caused individuals who identify as LGBTQIA+.
"Because of my relationships with the group members," she said, "I wanted to start a worship service that was fully affirming and inclusive." She and her colleagues called it The Collective Table (www.TheCollectiveTable.org).
"We worked for a year to form a launch team, build momentum, and plan all aspects of how our church community would operate," Chelsea reflected. Then COVID-19 hit, and they had to move everything online.
Undeterred by the pandemic, The Collective Table blossomed. "Alongside my ministry partner, Dana Black, we have had some amazing interviews for our podcast, like Rob Bell, Otis Moss III, and Jennifer Knapp," Chelsea said. "We have created innovative and life-giving experiences for The Collective Table's community, which now spans all over the country."
Chelsea recently was honored as a Distinguished Alumna of Claremont School of Theology.
The alumnus who nominated Chelsea for the award said, "Through The Collective Table, Chelsea is making faith accessible to everyday people who are living everyday lives. The podcasts both inform and inspire, taking on challenging theological ideas and making them available to listeners. In this call, Chelsea is making a difference in the lives of hundreds of people who are impacting their communities and their world."
Chelsea didn't plan to become a pastor.
Growing up in Pittsburgh, she had an idyllic childhood. "I had loving parents, a stable home life, a good education, plenty of friends and fun activities," she said. "And from an early age, I had a deep love of God."
Church provided sanctuary for the shy girl. "I felt safe there," Chelsie said. "I never missed youth group, read my Bible all of the time, volunteered for every service project available, spent my summers at church camp, listened to Christian music, and even worked at the Family Christian Bookstore."
Not realizing that women could become pastors, Chelsea decided to become a therapist. After completing an undergraduate degree in psychology, she moved to San Diego. She pursued a master's degree in clinical mental health counseling from the University of San Diego and worked as a campus minister. Living in the residence halls, she ministered to college students and helped organize service projects, particularly day trips to Tijuana, Mexico.
At USD, Chelsea also obtained a certificate in pastoral care and counseling. "I was introduced to some of the great theologians like Paul Tillich, Thomas Merton, and Mary Daly," she said. "I was falling more in love with theology and ministry, and I was hoping there was a way to stay connected with all I was learning."
After graduation in 2011, Chelsea began working as the youth director at San Dieguito UMC. It was a perfect fit.
"Each week," she explained, "I got to plan craft lessons to engage youth in their faith. I got to introduce them to the Jesus I knew and provide opportunities for them to live out their faith. I loved this position. I loved the youth and the church. After a year, I was also able to work with children and families, planning Sunday school, family camp, and children's moments."
Recognizing Chelsea's genuine gifts for ministry, the associate pastor encouraged her to consider seminary.
"I did not feel worthy of becoming a pastor," Chelsea said, "but I started to pray about it."
During a morning devotional, she read the familiar story of Peter joining Jesus to walk on the water. "I had always been so annoyed at Peter for sinking in the sea," Chelsea admitted. "Why, when Jesus is right in front of you, would you take your eyes off of Jesus and pay attention to the waves? But this time when I read the story, I saw something different.
"Peter was the only disciple to get out of the boat. He was the only one brave enough to try to walk alongside Jesus. And when he inevitably started to sink, Jesus was right there to grab him."
She applied to Claremont School of Theology the next day.
Chelsea appreciates the seminary's openness to many faith traditions. "I think CST is unique in its diversity and inclusiveness," she said. "It offers an expansive understanding of God, theology, and ministry. CST's emphasis on interreligious studies was another important aspect I wanted to incorporate into my ministry."
In 2017, the same year Chelsea graduated from CST, she was ordained as a deacon in The United Methodist Church and appointed as associate pastor of San Dieguito UMC.
She is grateful for the "wonderful, generous, engaged, passionate, and thoughtful congregation" and considers herself blessed to have experienced their love and support through discernment, seminary, and the ordination process.
Family is integral to Chelsea's life. On a typical morning, she reads a morning devotional and spends a few minutes in prayer. Then she and her husband Ryan get their two children – Max, 4, and Whitney, 2 – ready for preschool at the church.
Then Chelsea's workday begins. Not surprising, the toughest part is setting boundaries. "I am still learning how to do this," Chelsea said. "At this stage, everything feels exciting, and I feel the pressure of birthing something new. It feels like an important responsibility, and I don't want to mess it up. Then I remember that God is in control. I just need to be faithful to the work and to my calling."
The Collective Table draws a variety of people, including some who were ready to give up on church and their faith. "As TCT picks up momentum and more possibilities come to light," Chelsea said, "it has a growing sense of creativity and reachability."
Chelsea also is confident that she is a beloved child of God.
"I tell that to so many people, so many times," she said, "that somewhere along the way, I truly started believing it. I know, in the depths of my heart and soul, that I am good and I am loved. It is from that place of deep knowing that I can remind others of their belovedness."