An Open Letter From Dr. Jeffrey Kuan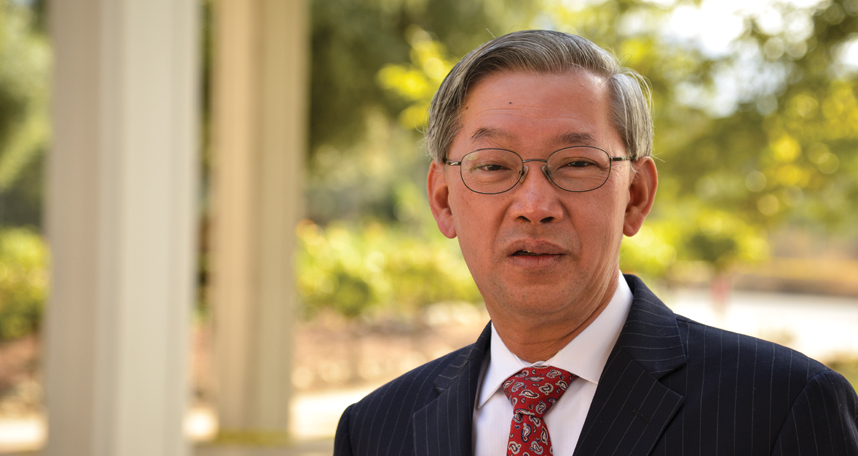 September 14, 2022
Dear CST Community:
It is now a couple of months into my 10th year as President of Claremont School of Theology. It has been such a privilege to lead CST, an institution that continues to be at the cutting edge of theological education. The pioneering spirit that our 1st President Ernest Cadman "Pomp" Colwell forged in our sojourn to Claremont has remained throughout these last 65 years. From embarking on interreligious dialogue during the era of John Cobb to developing interreligious theological education curricula, we continue to lead the way in theological education. We are delivering our programs through multiple modalities and expanding on our global programs. Our student population has become more global and diverse than it has ever been. Today, 38% of our students are international and 68% identify as BIPOC; 57% of our core faculty are BIPOC, and 53% of staff are BIPOC. We have an increasing number of LGBTQIA+ students. Our students come from a wide theological spectrum. I am proud of the diversity of the community we have built together and we continue to work hard on maintaining academic excellence of all our programs.
Answering the "Macedonian/Claremont Call" to come to CST back in 2013, I continue to believe that my coming to CST was not by happenstance, but out of a deep sense of calling. In these last 10 years, we have worked diligently to focus on our mission to prepare our graduates "to become agents of transformation and healing in churches, local communities, schools, non-profit institutions, and the world at large." In order to do that, we have fervently remained student-centric in spite of all the challenges we have had to navigate. We looked for solutions to our challenges and forged new paths. Many doors were closed on us, but we never gave up. We have made progress but our work is far from done. Our faculty, staff, students, trustees, alumni/ae, donors and friends continue to believe that we are an institution that needs to survive for the sake of the world. I continue to be passionate about the role that CST has played and can continue to play for the transformation of the world.
Yet, in my years in leadership, I have come to learn that a leader is not indispensable nor irreplaceable. The mission of an institution is far greater and more important than what an individual can embody. A leader needs to know when the time has come to step down and let others take the lead. After months of prayerful discernment, I have come to the conclusion that the time has come for me to step down from the presidency at CST at the conclusion of my 10th year of service on June 30, 2023 and let someone else take the lead. I am confident that the Board of Trustees will find the right person to continue to lead the school forward and that CST will be in good hands.
Ten years is a long time in administrative leadership in higher education. While these years have been extremely challenging, they have nevertheless been very satisfying as well. We have an incredible faculty and staff. Our students are phenomenal. Our trustees are deeply committed to the school. Our alumni/ae, donors and friends continue to provide us with unwavering support. When our detractors counted us out, all of you rallied together to prove them wrong. I cannot be more grateful to have had this unique opportunity and privilege to serve CST.
To facilitate the school's transition to a new leader, I have asked the Board of Trustees for a six-month sabbatical leave effective January 1, 2023. Until then, you can be assured of my commitment to being as fully engaged as ever over the next few months, as the school prepares for this important transition. During my sabbatical leave, I hope to take some time for personal renewal and then to reengage in some research projects. Upon my return from this long-delayed sabbatical leave, I intend to remain on the faculty and resume more teaching. After all, teaching and mentoring students is what I have always loved and is a big part of my calling in ministry. I intend to support the next president fully and will likely take on special projects as necessary to help advance the mission of the school.
As I step down from the presidency, I do so with a heart full of gratitude—to the trustees for their trust and support of my leadership; to the faculty and staff for the privilege of working alongside them as they carry out the mission of the school; to the students who are willing to take a glimpse at our vision of a better world and to dream with us; to our alumni/ae for representing the school so well to the world; and to our donors and friends for not giving up on us. Finally, I owe my family a deep gratitude for letting me do this work and for their sacrifices in my extended absences as I traveled the world on behalf of the school and the church.
And so, to all of you, please accept my ten thousand thanks!
[/fusion_text][fusion_imageframe image_id="20925|full" aspect_ratio="" custom_aspect_ratio="100″ aspect_ratio_position="" skip_lazy_load="" lightbox="no" gallery_id="" lightbox_image="" lightbox_image_id="" alt="" link="" linktarget="_self" hide_on_mobile="small-visibility,medium-visibility,large-visibility" sticky_display="normal,sticky" class="" id="" max_width="" sticky_max_width="" align_medium="none" align_small="none" align="none" mask="" custom_mask="" mask_size="" mask_custom_size="" mask_position="" mask_custom_position="" mask_repeat="" style_type="" blur="" stylecolor="" hue="" saturation="" lightness="" alpha="" hover_type="none" margin_top_medium="" margin_right_medium="" margin_bottom_medium="" margin_left_medium="" margin_top_small="" margin_right_small="" margin_bottom_small="" margin_left_small="" margin_top="" margin_right="" margin_bottom="" margin_left="" bordersize="" bordercolor="" borderradius="" z_index="" caption_style="off" caption_align_medium="none" caption_align_small="none" caption_align="none" caption_title="" caption_text="" caption_title_tag="2″ fusion_font_family_caption_title_font="" fusion_font_variant_caption_title_font="" caption_title_size="" caption_title_line_height="" caption_title_letter_spacing="" caption_title_transform="" caption_title_color="" caption_background_color="" fusion_font_family_caption_text_font="" fusion_font_variant_caption_text_font="" caption_text_size="" caption_text_line_height="" caption_text_letter_spacing="" caption_text_transform="" caption_text_color="" caption_border_color="" caption_overlay_color="" caption_margin_top="" caption_margin_right="" caption_margin_bottom="" caption_margin_left="" animation_type="" animation_direction="left" animation_speed="0.3″ animation_offset="" filter_hue="0″ filter_saturation="100″ filter_brightness="100″ filter_contrast="100″ filter_invert="0″ filter_sepia="0″ filter_opacity="100″ filter_blur="0″ filter_hue_hover="0″ filter_saturation_hover="100″ filter_brightness_hover="100″ filter_contrast_hover="100″ filter_invert_hover="0″ filter_sepia_hover="0″ filter_opacity_hover="100″ filter_blur_hover="0″]https://cst.edu/wp-content/uploads/2018/03/signature.jpg[/fusion_imageframe][fusion_text]
Most gratefully,
Kah-Jin Jeffrey Kuan
President and Professor of Hebrew Bible
[/fusion_text][fusion_button link="https://cst.edu/claremont-school-of-theology-president-kuan-announces-he-will-step-down-after-10-years-of-service" title="" target="_self" link_attributes="" alignment_medium="" alignment_small="" alignment="center" modal="" hide_on_mobile="small-visibility,medium-visibility,large-visibility" sticky_display="normal,sticky" class="" id="" color="default" button_gradient_top_color="" hue="" saturation="" lightness="" alpha="" button_gradient_bottom_color="" button_gradient_top_color_hover="" button_gradient_bottom_color_hover="" gradient_start_position="" gradient_end_position="" gradient_type="" radial_direction="" linear_angle="180″ accent_color="" accent_hover_color="" type="" bevel_color="" bevel_color_hover="" border_top="" border_right="" border_bottom="" border_left="" border_radius_top_left="20″ border_radius_top_right="20″ border_radius_bottom_right="20″ border_radius_bottom_left="20″ border_color="" border_hover_color="" size="" padding_top="" padding_right="" padding_bottom="" padding_left="" fusion_font_family_button_font="" fusion_font_variant_button_font="" font_size="" line_height="" letter_spacing="" text_transform="" stretch="default" margin_top="" margin_right="" margin_bottom="" margin_left="" icon="" icon_position="left" icon_divider="no" animation_type="" animation_direction="left" animation_speed="0.3″ animation_offset=""]To read the full press release on this update, click here[/fusion_button][/fusion_builder_column][/fusion_builder_row][/fusion_builder_container]