Beloved Leader Receives Honorary Doctorate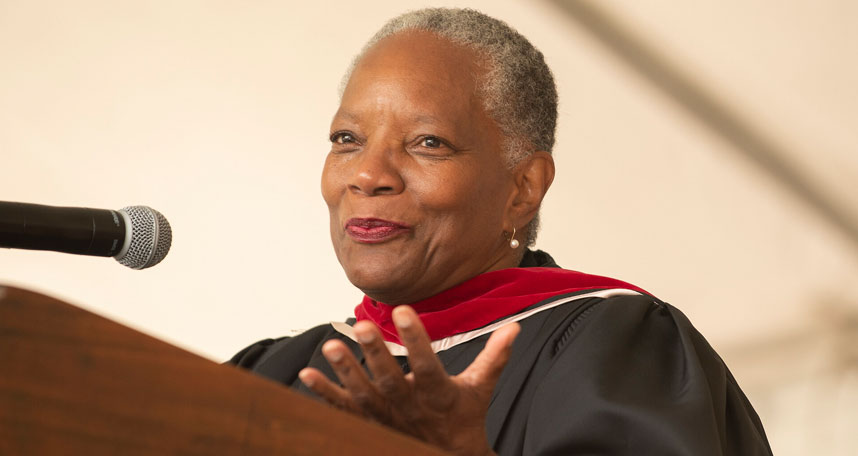 At Commencement 2022, the Rev. Belva Brown Jordan received the degree of Doctor of Divinity, honoris causa. Here, we share with you some excerpts from President Kuan's tribute.
Belva has heroically served Claremont School of Theology (CST) for many years and in several capacities, often behind the scenes, but always with integrity, commitment, and dedication. She is a senior leader in her denomination, the Christian Church (Disciples of Christ) (DOC), and she has been active as a theological educator for over 30 years. Although Belva has served at all levels of the church and ministry over her career, she found her vocation in theological education and in executive denominational leadership.
Presently, Belva serves as the interim president of the Disciples Seminary Foundation (DSF) during a time of crisis and transition. She has been in this role since January 2020. The Disciples Seminary Foundation is a primary and trusted partner of CST, and was CST's first ecumenical partner upon moving to Claremont in 1957.
Though Belva has the support of her board and denomination in this role, it is never easy to make difficult decisions that weigh heavily on the staff and students. Her skill, consistency, and reputation made her an attractive candidate, and the DSF board sought her out. Her job is to prepare the organization for its next iteration. In addition to a generation of experience in academic and denominational administration, Belva brings her academic background in organizational development to the task.
Notably, Belva serves as moderator, part of an executive team for the denomination that has fiduciary responsibility, and is the chair of the denomination's General Assembly, General Board, and Administrative Committee. She assumed these roles in addition to her work in southern California. Running denominations takes a great deal of organizational and fiscal expertise, and with the added challenges of a global pandemic, it is not for the faint of heart. Belva's passion for the Christian Church (Disciples of Christ) is lifelong, and that commitment is evident in her faithfulness in doing challenging administrative work and experiencing the best and the worst that the church has to offer.
Belva arrived at Claremont School of Theology during the summer of 2013 to assume the position of associate dean for curriculum and assessment, which she held until 2020. Already an experienced dean at three other seminaries, her work included overseeing the administration of the curriculum and student advisement. In this role, as the primary advisor for DOC students, Belva had as many as 60 advisees at times.
In all of her roles, at least three at CST, Belva had the unique ability to handle often difficult situations with grace, dignity, and restraint. Her organizational ability, people skills and good humor made her a trusted and beloved colleague and the person on the ground for DOC students.
Prior to her tenure at CST, Belva served Phillips Theological Seminary, Harvard Divinity School, and Lancaster Theological Seminary. She created the Bethany Fellows program, designed to prevent burnout among early-career pastors, and she has served as a theological educator through denominational positions in youth ministry and racial/ethnic ministries. An ordained minister as well as a trained special education teacher, Belva has a lifelong association with local churches, where she has served as a consultant and directed children's and youth ministries. Her publications reflect these skills.
Belva is also a singer and a theo-musicologist with a deep knowledge of the African American musical tradition. Belva gives highly acclaimed retreats and performances in worship settings and at different venues that integrate theology, music, and the arts.
Given the rich diversity of the gifts she has brought and continues to bring to the community of Claremont School of Theology, it is my pleasure to award Belva Brown Jordan the degree of Doctor of Divinity, honoris causa.
We thank and honor Belva for the rich talents she shares with us.