Western Jurisdiction elects two Claremont alums to episcopacy
Bishop Cedrick D. Bridgeforth and Bishop Dottie Escobedo-Frank credit CST with strengthening their talents and pushing them to do their best.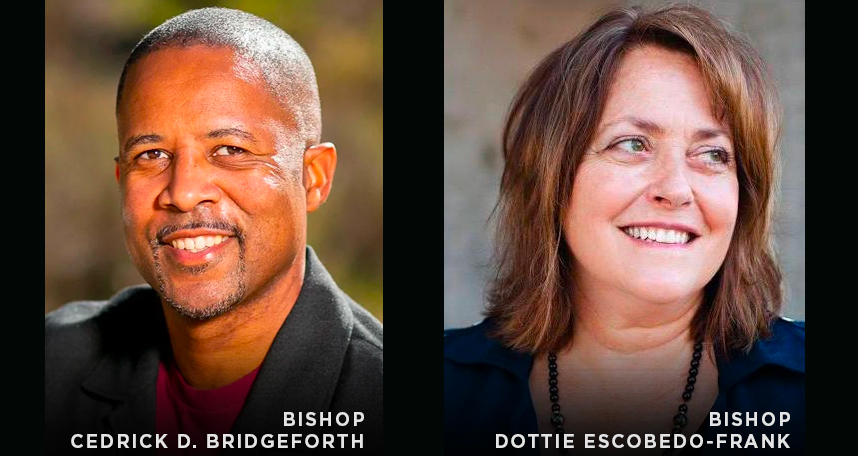 The recent election of three bishops by the Western Jurisdictional Conference was a testimony to Claremont School of Theology as two of the new episcopal leaders are CST alumni.
Bishop Cedrick D. Bridgeforth, a pastor, author and coach, was featured in the CST "For Such a Time as This" campaign. The first openly gay African American man to be elected a bishop in The United Methodist Church, he most recently directed communications for the California-Pacific Annual Conference. Bridgeforth is assigned to the Greater Northwest Episcopal Area, which encompasses Alaska, Idaho, Oregon, Washington, and small parts of Montana and Canada.
Bishop Dottie Escobedo-Frank, a Latina pastor, author and speaker, was named a 2018-19 CST distinguished alumna for her work with immigrants in Arizona. She is a CST trustee. Before her election, she served as a pastor and as a district superintendent. Escobedo-Frank is assigned to the California-Pacific Conference, which covers portions of central and southern California, Hawaii, the Pacific Islands, Guam and Saipan.
Bridgeforth and Escobedo-Frank reflected on their divergent paths toward the episcopacy.
Feeling a tug toward ministry as a child, Bridgeforth wasn't sure where God's call would lead. The opportunity to participate in a pilot program between Claremont School of Theology and the California-Pacific Conference proved eye-opening for him.
"The sense of purpose and fulfillment that came as I served those living in abandoned houses and assisted those struggling to find employment," he recalled, "was unlike anything I had ever experienced. Having those on the streets receive communion and ask to be baptized touched me in ways that those same acts and engagements never had from within the church. The street people affirmed my call to ministry, and I knew it was my path."
Escobedo-Frank pursued another career before heading to seminary.
"I was called to the ministry when I was 8," she said, "but I became a social worker instead. I was re-called in my 30s when I was a mother of young children. I went to Claremont School of Theology then, and it changed my life. It felt like being 'home.' I would never say the ordained ministry was a goal – just a persistent calling."
Both credit CST with strengthening their talents and pushing them to do their best.

Bridgeforth was intrigued by Claremont's academic reputation and justice-focused curriculum. "There was an obvious rigor expected," he said, "but it was not rigid. I felt space to explore a variety of ideas and an invitation to discover my voice.
"I was educated, not indoctrinated," Bridgeforth continued. "That helped in my preaching, teaching and administrative roles. I had tools I could share with congregations and organizations. The prophetic and biblically based teachings and philosophies prepared me to speak into the public sphere with confidence and competency. My ministry could never be bound by the congregational context without impacting the communities in which we were placed."
Bridgeforth graduated from CST in 2000 and returned as director of alumni and church relations (2001-03).
A commuter program for out-of-state students drew Escobedo-Frank to CST. "I could do that while raising my children," she said, "without being gone too much."
It proved a good choice for her. "I loved Claremont from the start: the professors, the students and the focus," she said. "I grew in my faith.

"Claremont prepared me for the roles in ministry," Escobedo-Frank added. "I had great professors who taught me how to look at the detail and the whole. I had professors who had deep faith and on-the-ground experience, and they shared their wisdom. I had advisors who walked alongside me, showing where I needed to grow. I wish I could list all the professors and staff that influenced me, but, instead, I will say that the people who lead at Claremont are well equipped to help shape the leaders of our future United Methodist Church."
She graduated from CST in 1997.
Amid an uncertain future for The United Methodist Church, Bridgeforth and Escobedo-Frank seem ready to hit the ground running.
"Apathy and cynicism are our greatest challenges," Bridgeforth said. "We have congregations and conferences sitting still, waiting to see what the denomination is going to do. No! The great commission is not on pause. The call of God upon our lives is not on pause. The needs of the lost and left out are not on pause. Regardless of what the denomination opts to do, I will proclaim the good news of Jesus Christ and challenge those within my sphere of influence to do the same.
"The Methodist Church has seen and perpetuated divisions and splits since its inception," he continued. "The bishop is critical in leading the church to focus on how we shall live out our mission. The bishop can influence conversations and help shape and share resources that move the church from 'wait and see' to 'do and become.' That can happen through inspirational teaching, consistent relationship building and keeping the main thing the main thing.
"These times," he noted, "call for humility that is resolute and confident in the truth of who God is and what is possible when we behave as those who believe that with God, all things are possible."
Escobedo-Frank agrees. "Our current challenge," she asserted," is that we are a new church coming out of the pandemic era. We have some 'isms' to face, including racism. We will be tempted to return to the way church was before the pandemic, but we must grow into the reality of our newness in this time and form our congregations and structures to meet the needs of this day.
"Bishops," she said, "can be the ones who listen to the cries of the people, see the vision for our churches, proclaim the Word to our areas and to the world, and keep the focus on Christ as we move forward together."